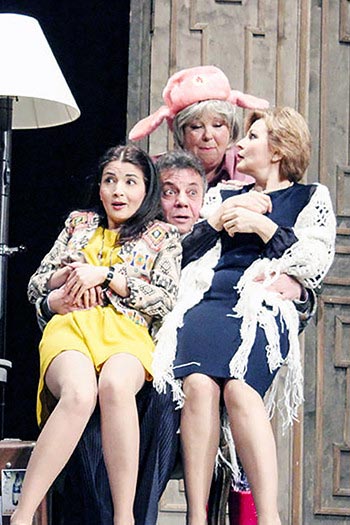 Sun 31.10.2021 19:00
M 15
"Athenian nights"

Age limit: 6+

Author: Peter Gladilin

Genre: Lyrical comedy

Language: Russian

Duration: 1 act - 60 minutes

2 act- 55 minutes

Moviemaker: Alexander Sharovsky (Honored Artist)
Art Director: Alexander Fedorov (Honored Worker of Culture)
Musical arrangement: Vladimir Neverov (Honored Worker of Culture)

The intriguing title of a play by a modern Russian playwright turns into an equally intriguing action on stage. Here, amorous passions of the young, stumble upon a problem called "Natasha's dad." The generation gap is mitigated by Natasha's grandmother - formerly Princess Rostopchina. She talks about the traditions of her youth, spending time, having fun in a circle of peers, not just anywhere, but at "Athenian nights". Here, not only a young heroes fall into a "shock state"! Could this prim woman, what Rostopchina seemed to be able to lead such an "immoral way of life"? Is that so that the behind the noble appearance hides ... once slutty young lady? What kind of indomitable passions patrician/ Family investigation comes to a standstill. Everyone is confused and confused! What does Rostopchina hide: grandmother, mother and mother-in-law?
Helpful info
Events can be visited by:

From 6+ age

Language:

Русский

Event duration:

19:00 - 21:10 - Sun, 31 Oct
Venue
Address

Khagani Street 7, Baku, Azerbaijan

Phone